Modified Atmosphere Packaging (MAP)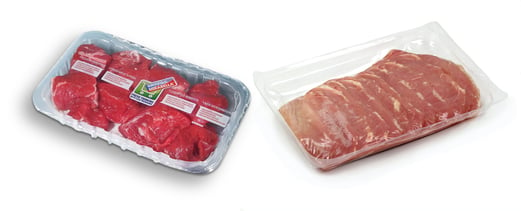 The goal of modified atmosphere packaging, or MAP, is to extend the shelf life of products. MAP lowers or eliminates oxygen inside the packaging, because oxygen speeds up the process of spoilage. Oxygen encourages the growth of bacteria, produces lipid oxidation reactions, and causes high respiration rates, which then causes spoilage. The air in the package is replaced by gas mixtures that help extend the product's shelf life. Some common gases used are carbon dioxide, oxygen and nitrogen. Nitrogen is used to prevent oxidation and helps prevent packages from collapsing. MAP uses gas flushing. It happens by passing a stream of gas – the air becomes diluted, then the pack is sealed.
Vacuum Packaging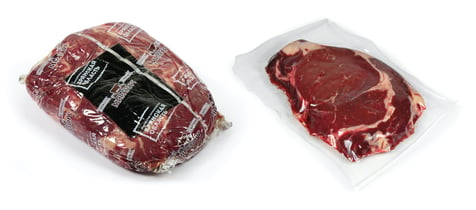 The vacuum packaging method removes air and its contaminants prior to sealing. The process creates a cavity by heating and forming the film into a desired shape, introducing your products to the packaging either manually or by automation, extracting all air and any particulates, then sealing occurs. There are several benefits of using vacuum packaging: longer shelf life, increased product protection, flavor preservation, and mold and bacteria prevention. It's also cost effective and can be used with rigid or flexible packaging.
Skin Packaging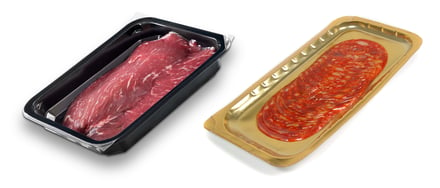 In skin packaging, a top film forms over the entire product's surface as well as any exposed material surface. This process involves lining the backing material, often corrugated cardboard or paperboard, with an adhesive material. Heat sealing permits the film to form a seal around the product while a vacuum is used to eliminate the atmosphere which would accelerate product spoilage. Industries and products such as seafood, fresh meats, poultry, cheese and ready meals could benefit from skin packaging. Some benefits of skin packing include an extended shelf life, flavor retention, product clarity, vertical display and options for flexible or rigid support. It's often used in retail so consumers can see a product without having to open it. Skin packaging can be done on a thermoformer or a traysealer.
Stretch Seal

Produced on a tray sealer, stretch seal requires the film to be heat sealed to the flange, or top edge of the tray, rather than wrapping around the entire tray. This sealing technology prevents leakage and reduces costs on materials. Stretch Seal is ideal for poultry products because of its leak-proof capabilities as well as the extremely clear presentation. It also eliminates the need for shrink tunnels which are used by some equipment to heat & shrink the film to form around the product.
Darfresh® on Tray

Cryovac Darfresh technology is similar to skin packaging, but offers an additional layer of support with a second tight and form fitting skin that seals to the edge of the product. Compared to normal skin packing technology, Darfresh offers zero film scrap and up to 38% less top film usage. Also, 20-30% more trays per minute can be produced than traditional technology. The Darfresh packaging method is used in both tray sealing and thermoforming, and is useful for products that contain liquids. The process features easy-open film, offers clear visibility for the product, superior oxygen barriers, and contributes to an extended shelf life.
Brochure for Thermoformed, Flow Wrapped, and Stretch Wrapped Meat >