Safe and Functional Packaging

Medical and pharmaceutical industries require reliable, reproducible and traceable packaging solutions. Harpak-ULMA offers medical packaging solutions that meet all of the standards required, helping to provide; maximum product protection, hermetic sealing, customizable package shapes, Hygienic individual and multi-packs, easy-open options.

Medical Packaging Analysis
Industry knowledge from our medical packaging experts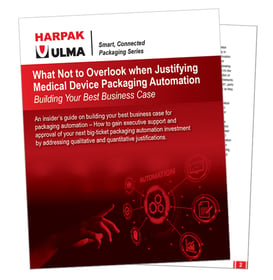 An insider's guide on building your best business case for packaging automation - How to gain executive support and approval of your next big-ticket packaging automation investment by addressing qualitative and quantitative justifications.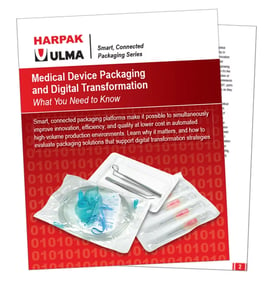 Smart, connected packaging platforms make it possible to simultaneously improve innovation, efficiency, and quality at lower cost in automated high-volume production environments. Read this whitepaper to learn why it matters, and how to evaluate packaging solutions that support digital transformation strategies.

A detailed whitepaper about regulatory compliance as it pertains to medical device packaging operations for terminally sterilized products.
System Solutions

End-To-End Automation - Complete integrated Systems
Get everything you need from Harpak-ULMA, including row alignment and distribution systems. Every piece of our fully automated, end-to-end packaging solutions is designed, installed, configured, and serviced by us. Use automation in conjunction with our flow pack, vertical, thermoforming, tray sealing, and various other packaging technologies to complete your packaging solution.

TFS 300 - Hygienic Thermoformer
Harpak-ULMA offers reliable, reproducible and traceable packaging solutions for the medical industry, fulfilling all of the standards required including supporting GMP, GAMP5 and ISO 11607 IQ and OQ validation processes. Harpak-ULMA's medical packaging solutions offer maximum product protection, hermetic sealing, the ability to customize the package shape, blister packs for retail sale, hygienic individual and multipacks, easy open options, and protection during transport and handling. The TFS 300 is a hygienic thermoforming machine ideal for medical device packaging.
Reduced Package Cost
Increased Productivity
Improved Product Appearance
Faster Product Loading
179 Tax Deduction
Section 179 of the IRS tax code allows businesses to deduct the full purchase price of qualifying equipment purchased during the 2019 tax year. That means you can potentially deduct the full purchase price from your gross income. Section 179 is a government incentive available to businesses of all sizes, but with the spending limits in place, is aimed more at small- and medium-sized businesses.